Advantien's Ryan Fredricey Contributes Column on ASC Implant Negotiations to Becker's ASC Review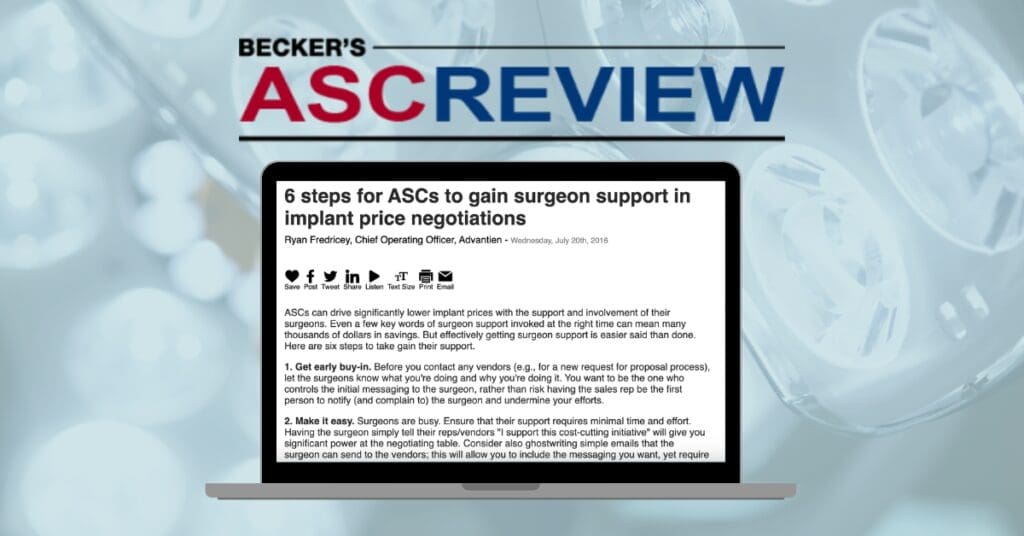 Ryan Fredricey, Chief Operating Officer for Advantien, has contributed a column to Becker's ASC Review.
The column is titled "6 steps for ASCs to gain surgeon support in implant price negotiations." In the piece, Ryan analyzes the importance ambulatory surgery centers (ASCs) taking the following steps:
Get early buy-in
Make it easy
Ease the fear of change
Educate on pricing
Play your "surgeon" card at the right time
Bring in third-party expertise
To view the article, click here. Learn how Advantien's customized ASC implant purchasing services increase profits from spine and orthopedic devices by contacting us today.
Becker's ASC Review, part of the Becker's Healthcare family of publications, features general business, legal and clinical guidance on topics relevant to ambulatory surgery centers.
---